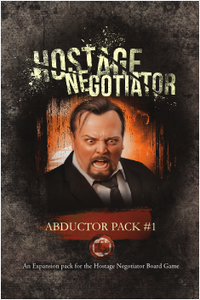 $

32.00
In Abductor Pack #1 you will face off with the head of a mega corporation who has just seen his empire crumble and been "asked" by the Board of Directors to step down. Now he has taken the board members hostage and will not release them until he gets what he wants.
In Abductor Pack #2, you will face off with not one, but TWO Abductors! The Pedersen Twins are trapped in a Port Authority office after a rival tipped off the Feds to one of their smuggling operations. But they have Hostages and don't plan to go quietly...
In Abductor Pack #3, one of your own, Lieutenant Jackson, has taken hostages in a desperate move. He is trying to clear his name of the chief's murder. Now you need to keep him from doing something drastic while you try to find evidence to clear his name.
In Abductor Pack #4, it is a hostage situation on the move. The Abductor has hijacked a bus and taken everyone hostage. Can you resolve the situation before it is too late?